India's Pink City, Jaipur, offers families a unique combination of history, culture, and entertainment. From historical forts to modern amusement parks, Jaipur has something for everyone. Explore the top 10 places to visit with family, ensuring a memorable and enjoyable experience. So, let's journey to discover the best family-friendly destinations in Jaipur.
10 Outstanding Places to visit with family
1. VR Theme Park - The Ultimate Gaming Experience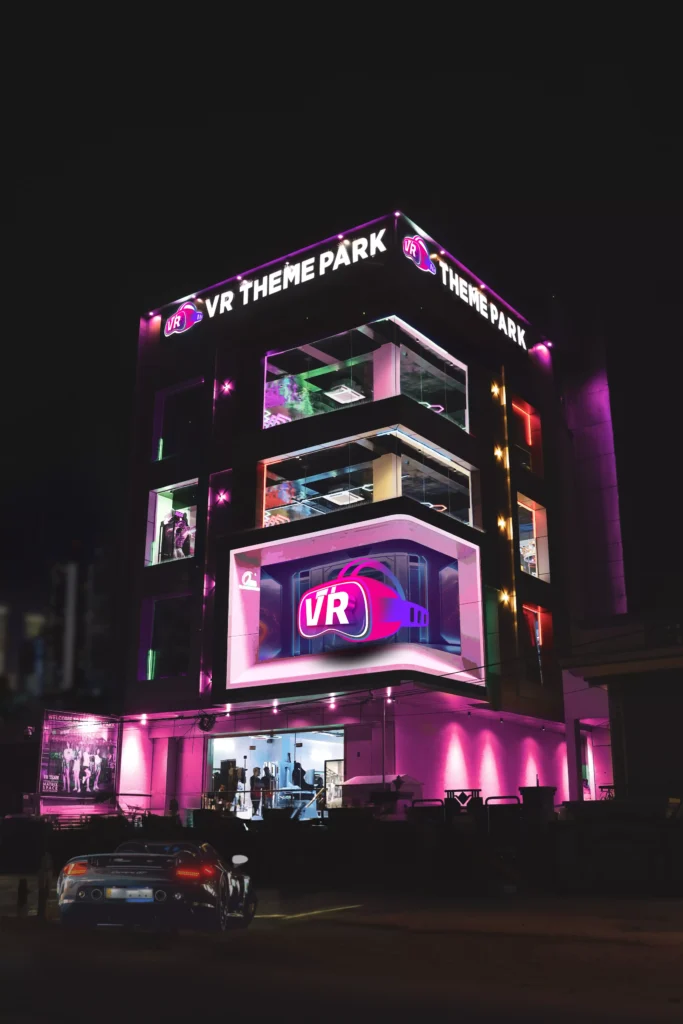 Priority number one on our list is the VR Theme Park, where you can lose yourself in a virtual reality gaming world. This park offers incredible gaming options, from PS5 games to VR horseback riding, 3-screen racing simulators, VR shooting games, and more. It's an ideal place for family bonding through gaming and thrilling adventures. VR Theme Park promises non-stop fun and excitement for all ages. "Discover the top 5+ fun places in Jaipur with affordable prices, including the thrilling VR Theme Park, perfect for your next budget-friendly adventure in the Pink City!"
2. Puno - Indoor Adventure Park
PUNO is an indoor adventure park specifically designed for families with kids. It's a place filled with exciting things to do, like climbing walls, zip lines, and rope courses. Plus, there's a cozy cafe where families can chill and enjoy yummy food. It's safe for kids of all ages and perfect for families with little ones. PUNO guarantees a fantastic time with your loved ones, full of fun and bonding.
3. Fun Kingdom - An Amusement Extravaganza
Fun Kingdom is another must-visit destination in Jaipur, especially for families with kids. This amusement park boasts many rides and attractions suitable for all age groups. Whether you are looking for thrilling roller coasters or gentle kiddie rides, Fun Kingdom ensures endless fun and excitement for your entire family.
4. Masti Zone - Adventure Awaits
Masti Zone is the area for those looking for adventure and adrenaline-pumping activities. This adventure park offers quite a few thrilling sports, along with ziplining, mountain climbing, and obstacle publications. It's an excellent choice for families looking to venture themselves bodily whilst having a fantastic time together.
5. Zero Gravity - Trampoline Park
Zero Gravity is a trampoline park that guarantees children and adults hours of fun. Jump, flip, and shake to your heart's content on interconnected trampolines. It's entertaining and a great way to stay active as a family. Here We Will Provide 10 Reasons Why You'll Love Game Zone in Jaipur: Real Review.
6. Amer Fort - A Historical Marvel
Now, let's shift our focus to the historical wonders of Jaipur. UNESCO World Heritage Site Amer Fort is a majestic fort showcasing Rajput architecture's beauty. Explore the grand courtyards' intricate palaces, and take an elephant ride to the defense, creating lasting memories with your family.
7. Elephant Joy - Bond with Gentle Giants
Experience the joy of interacting with elephants at Elephant Joy, a conservation and rehabilitation center. You and your family can feed, bathe, and even paint with these gentle giants. It's an educational and heartwarming experience that teaches the importance of wildlife conservation.
8. Jaigarh Fort - The Fort of Victory
The Jaigarh Fort, also called the Fort of Victory, offers breathtaking views of the environment. Explore its well-preserved structures, including the world's most giant cannon, Jaivana, and learn about the history of Jaipur. The fort's imposing presence makes it an excellent place for family photos. "Experience the excitement of 8 Things to do in Jaipur's VR Theme Park: The Ultimate Destination for Virtual Reality Games in the Pink City. Add this to your must-do list in our blog!"
9. City Palace - Royal Grandeur
Visit the City Palace to get a glimpse of Jaipur's royal heritage. Explore the elegant palaces, museums, and beautifully landscaped courtyards. The City Palace provides a fascinating journey through Rajasthan's regal history.
10. Jantar Mantar - Astronomy Marvel
Jantar Mantar, an astronomical observatory and UNESCO World Heritage website, is a unique destination for families. Explore the stunning series of astronomical instruments, some of which are the biggest in the world. It's an educational level that sparks curiosity about the cosmos.
In addition to these top 10 places, Jaipur offers various dining options that serve delicious Rajasthani cuisine. Don't remember traditional dishes like dal baati churma and laal maas.
Why is VR Theme Park the Best Place to visit with family?
VR Theme Park is the final family vacation spot. With numerous realistic video games, it provides enjoyment for all ages. Whether a child or a grown-up, you may experience exciting adventures together, making unforgettable reminiscences as a circle of relatives. Don't take advantage of a unique bonding revel in!
Virtual Reality Entertainment
VR Theme Park offers an immersive experience like no other. It transports your family into a world of virtual reality adventures, creating a fun and engaging environment for everyone to enjoy.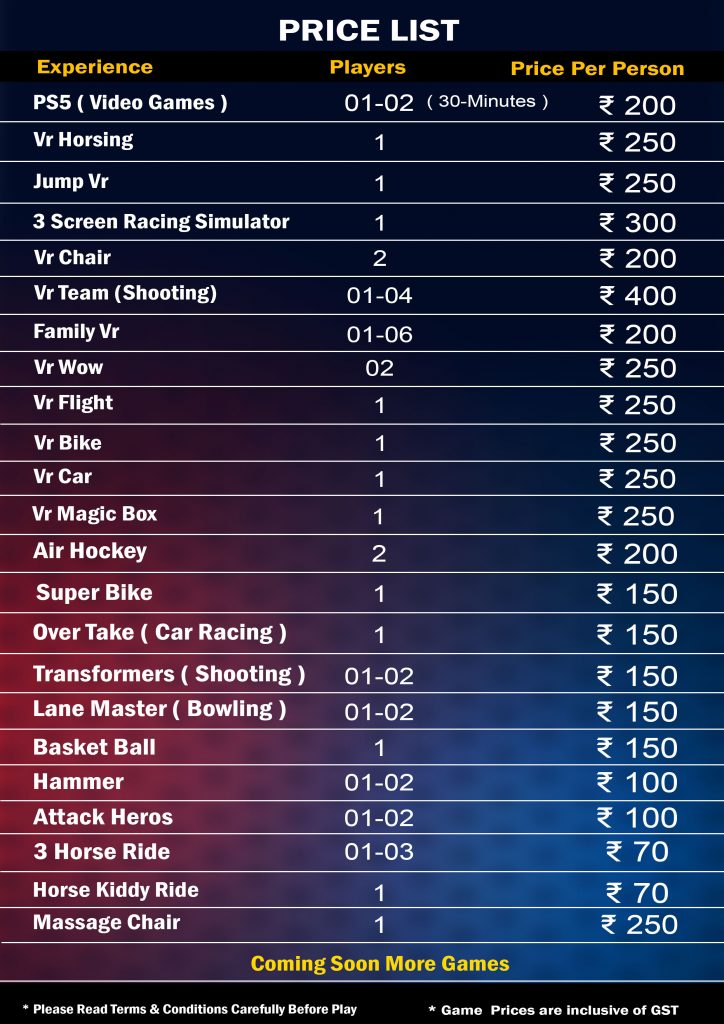 With a wide array of games, including PS5 titles, VR horseback riding, and 3-screen racing simulators, there's something to cater to every family member's interests and skill levels.
Whether you're a child, a teenager, a parent, or a grandparent, VR Theme Park is designed to be inclusive, ensuring that the whole family can participate and share the fun.
Combining Physical and Digital Fun
Unlike traditional amusement parks, VR Theme Park blends physical and digital experiences smoothly. It offers the excitement of virtual adventures and interactive physical games.
The experiences at VR Theme Park create lasting memories. Whether playing a challenging game together or exploring new virtual worlds, these moments of laughter, excitement, and togetherness will be treasured for years.
VR Theme Park stands out as the best family destination due to its unique immersive entertainment, diverse game selection, inclusivity for all ages, a fusion of physical and digital fun, and the creation of unforgettable memories. It's not just a theme park; it's a gateway to a world of endless enjoyment and bonding for your entire family.
Jaipur is a city that beautifully balances history and modern entertainment. Whether you're exploring the rich heritage of Amer Fort, bonding over virtual reality gaming at VR Theme Park, or splashing around at Puno, Jaipur ensures a fun-filled family vacation. Make memories that will last a lifetime in the Pink City of India. Jaipur is indeed a family-friendly destination with something for everyone.
Q: In Jaipur, what are the top places to visit with family?
A: In Jaipur, you can explore several family-friendly destinations such as VR Theme Park, Amer Fort, Elephant Joy, City Palace, and Jantar Mantar. There are many activities available for families to enjoy.
Q: Are there any modern entertainment options for families in Jaipur's Places to visit with family?
A: Yes, Jaipur offers modern entertainment options like VR Theme Park, where you can enjoy virtual reality gaming and exciting experiences, making it an ideal destination for family fun.
Q: Can my family have a mix of historical and contemporary experiences at Places to visit with family in Jaipur?
A: Absolutely! Jaipur perfectly blends historical wonders like Amer Fort and modern attractions like VR Theme Park, ensuring your family can enjoy traditional and cutting-edge experiences.
Q: What age groups can enjoy the Places to visit with family in Jaipur?
A: The places to visit with family in Jaipur cater to all age groups. Activities and attractions are suitable for everyone from young children to teenagers, parents, and grandparents.
Q: Are there any educational opportunities for kids at the Places to visit with family in Jaipur?
A: Yes, Jaipur offers educational experiences too. Places like Jantar Mantar provide insights into astronomy and science, making it a great learning opportunity for kids while having family fun.